Landing pages and SEO – Part II
My earlier post on landing pages and SEO covered the basic requirement of a Landing page.  However, nothing should be established or concluded without testing. If we assume that a landing page will do well (without testing it out)  we might not be setting it up for success; It might just end up being a low performing page.
Having said that, there are some default best practices, from the SEO perspective, of landing pages, that must be kept in mind while designing and writing the content for landing pages. These features should be there in your landing page by default. Features such as,  persuasive title, call to action words, alignment with the promise made in the Ad copy, and much more.
I will illustrate with the help of a few examples
I have been meaning to upgrade my camera for quite some time now. I thought I would look up if there are any discounts on offer. I carried out a search in Google with the keyword "discount cameras".
Unfortunately, I did not find many ads specifically mentioning discount cameras in their Ads; there were some very generic ads that talked about discounts on a wide variety of products not just cameras.
There was an ad from Indiatimes that came close to what I was looking for. The title specified a discount amount, though it talked about a specific brand of camera, it looked like a potentially relevant site to me. The landing page also is quite relevant (see below)
Fuji Camera – 46% Off
shopping.indiatimes.com/Digi-Camera
Free Shipping, All Brands Available
Huge Range to choose from!
Screenshot of the Landing page is given below:
As you can see, the visitor can also check out discounts on other brands in this site. I could get a good idea about the brand of camera I was looking for, and the discounts offered. This is a reasonable landing page but I can't say for sure if it is converting well without testing it. I would recommend having some "call to action" words so that the visitor is persuaded to carry out the desired action.
I am also planning a trip to a hill station, and Shillong is somewhere I really wish to go. So I googled  to find out if there are any off season discounts, since now is not the best time to visit Shillong because of Monsoons. I typed in the keyword "Discounted Hotels In Shillong", there were a lot of results from many travel sites but they were not specific to Shillong.
I found two relevant sites that generated some amount of interest in me.  One was an ad from tripadvisor and another from cleartrip. While Tripadvisor took me to a page with listing of hotels with a selection of price range, it did not specify any discounts as such. So it did not really inspire me to explore any further.
Discounted Hotels In Shillong
shillong.tripadvisor.in/hotels
16 Shillong Hotels.
Read 340 Reviews & Compare Now!
Screenshot of the landing page is given below:
When I visited the landing page of cleartrip, I was taken to a landing page that was quite generic again, just like trip advisor, it listed out the hotels in Shillong. But there were two lines of text at the top of the page (see screenshot below) that talked specifically about the discount. Clicking on that link took me to that page (screenshot number 2). It may have been more effective if this was the page I had landed on. It would be one less click and there would be some satisfaction at arriving at a relevant page!
Shillong Hotels
www.cleartrip.com/Call_1860-233-6000
Save Upto 30% on Hotel Bookings.
Screenshot of the landing page is given below: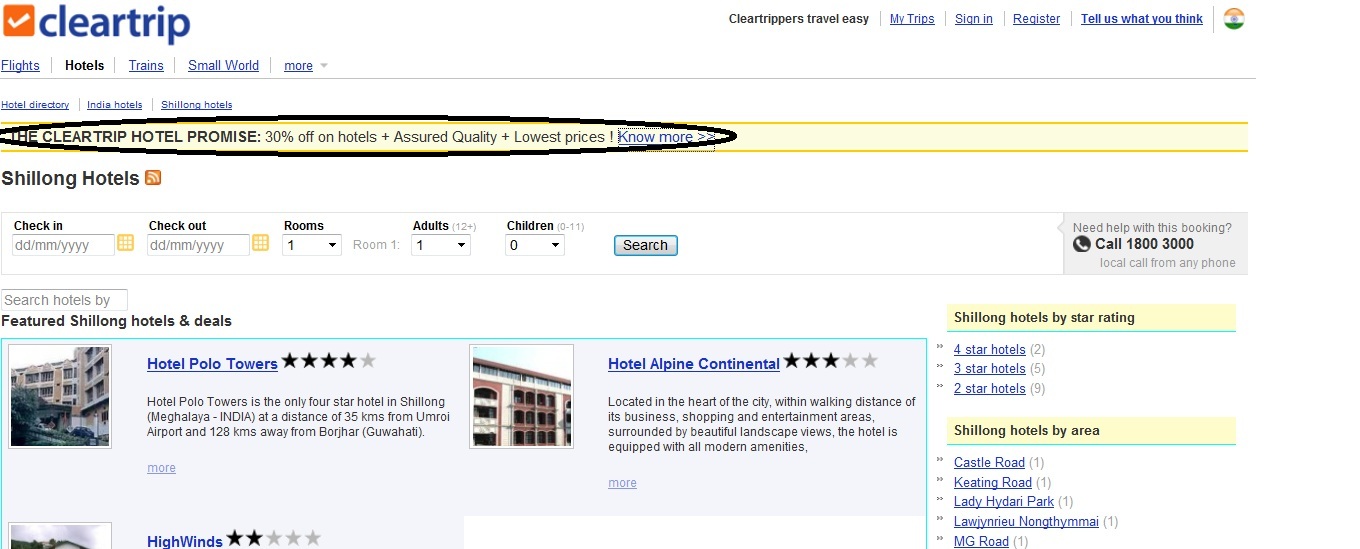 The page displayed below (Screenshot number 2) was arrived at after clicking on the highligted text link on the screen shot of the page as displayed above.

I hope these examples will give you an idea of how a landing page should be designed. Whether it is a PPC landing page or an organic landing page, you might want to make them as specific as possible.
Related Posts :